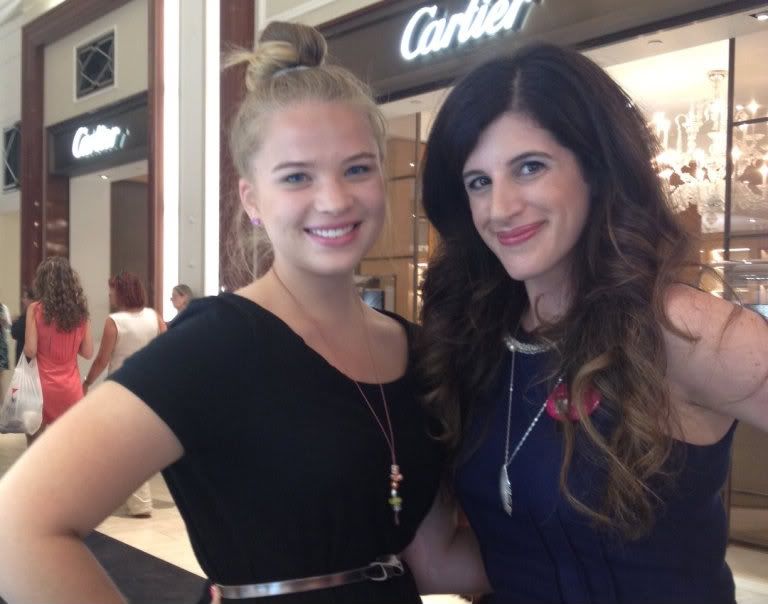 This week, I was thrilled to participate in Look Good Feel Better's very first Beauty Editor's Day at Saks Fifth Avenue. I had so much fun meeting all of the incredible women who came out to see me at the Clinique counter including Emily (pictured above), a super cute (and totally amazing) 16-year-old who drove all the way from Maryland just for the event. Big thanks to everyone who came out to support this wonderful cause. Now, here's just a few other things that occupied my time this week...
•

As a child of the '80s, I adored the brand Camp Beverly Hills back in the day. (I owned a CBH rugby shirt--I mean, that's like doubly '80s!--and it was pretty much my prized possession). Well, I freaked out this week when I learned that the brand is back. I scooped up this cute shrunken sweatshirt almost immediately. Couldn't be helped--the nostalgia factor was overwhelming!
•

Speaking of blasts from the past, I so want to relive my Lynda-Carter-obsessed youth with these badass Wonder Woman nail strips. (Because, I mean, we all know I love me some nail art, right?)
•

I just love this smart, easy, space-saving way to store nail polish. Why haven't I thought of this?
•

Can't stop thinking about this gold Eddera headband--so gorgeous and goddess-y. And one of my favorite bloggers, Claire, is giving one away right here! Run don't walk.
•

It would be an understatement to say that I do not have a green thumb. I mean, let's just say, I've never met an orchid I couldn't murder. These quirky-cool stuffed plants are much more my speed.
•

I can't wait to try these sleek black nails! Don't they kind of remind you of the black version of this bag?